The Toilet Papers
July 7, 2017
Short story collection (horror, humor, & historical)
Date Published:

7/23/2017
Have you ever noticed that reading a book on the toilet takes forever? Wouldn't it be nice to have stories suited to your specific potty needs? This collection of short stories ranges from 50 words to more than 50 pages, separated in categories labeled to fit your bathroom needs: NUMBER ONE, NUMBER TWO, and FARFROMPOOPIN. The idea is to give you, the reader, a great deal of material to read, tailored and categorized to the needs of your intestines and bladder. So go ahead, get comfortable, pull out your Squatty Potty® and enjoy some fantasy, science fiction, horror, adventure, and humor from the comfort of your own throne…the john…the latrine…your office…the bathroom, whatever you want to call it. Just be sure to wash your hands once you're done. 
How to Find a Publisher That Doesn't Suck
When to run and when to sign
Words are everything when you're writing. They are even more important when you are reading a publisher's contract. With the ease of publishing through print-on-demand platforms, publishers are popping up like acne on a teenager, and some of them are just as puss-filled. (Ew!) So what's an aspiring author to do? Some things are easy to figure out, like you don't EVER work with a publisher that is charging you for ANY service, be it editing, marketing, or buying books prior to print. Others are harder to read, hidden behind fancy promises, compliments, and vague contracts.
Research First
Publishers generally list their authors on their websites. That's a great place to start. While it won't be the "tell all" tip, it will give you a general idea of what type of marketing a publisher might have in store. Things to check:
Amazon author central – Here you can see what other books an author has written, their author ranking, and link directly to their books to see how their copy reads, what categories the publisher has placed them in, and where the author ranks in those categories
Author websites – Reach out to the author directly to see what they think about the publisher. Again, this is going to be a biased opinion. We're just researching.
Awards – Is this publisher award-winning? Are the authors? What type of awards?
Predators & Editors – Check the publisher out in places like Predators & Editors, http://pred-ed.com/ an online resource that provides information about publishers. If the publisher is bad for authors, they recommend you run. If you can't find your prospective publisher in the list, don't sign with them.
Absolute Write – This is the "water cooler" of the writer's world. Everything you need to know is discussed here. http://absolutewrite.com/forums/activity.php
Keep a list of pros and cons, adding your comments into the appropriate category.
Submit Afterward
If your initial info gathering provides you with a publisher that has decent rankings (10,000 and under for the author in that category), a good reputation, and doesn't charge for anything up front, you'll begin the submission process. Follow their guidelines carefully, and wait for them to get back to you within the time frame they have online. If they don't have one, it's okay to reach out in 6 weeks and nudge them for a reply. However, if you get a contract within only a short time (like a few days or even a week) that could be a red flag.
Did they consider your book for their market?
Do they have the right following for your book's audience?
Did they connect with and feel passionate enough about your book to invest the necessary time and effort to market it for sales?
Are they just signing you as a number, knowing you and your fan base of family and friends will buy enough books to make the cost worthwhile?
Now what?
Hopefully, you will land a contract. That can be tricky too, but there are great resources such as The Book by SCBWI that can help you negotiate on your own. Good luck and HAPPY WRITING!
Jaimie Engle was once sucked into a storybook, where she decided she would become an author. She has modeled, managed a hip-hop band, and run a body shop. She loves coffee, trivia, cosplay, and podcasting on ORIGINS, where myth and science meet (podcastORIGINS.com). Basically, if it's slanted toward the supernatural or nerdy, she's into it! She lives in Florida with her awesome husband, hilarious children, and the world's best dog. She also happens to have the world's best literary agent, Saritza Hernandez. Become a fan at theWRITEengle.com. Follow on social media @theWRITEengle and pick up books at jmebooks.com.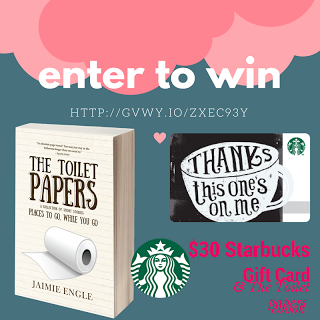 Rafflecopter: July 6 – Aug 6 ($30 Starbucks GC; Toilet Papers ebook) 
Goodreads Giveaway: July 1 – July 22 (3 paperbacks)